Customer service means supporting the customers to meet their expectations by either interacting with customers over messaging channels or addressing their grievances over other channels
Principles of good customer service
As per multiple surveys, the key principles of good customer service are speed, convenience, and empathy. Customers always want that their queries get responded to in the minimum possible time and anytime during the day in a friendly way.
Ways to deliver exceptional customer services in 2022
The market has become customer-centric over the years. The needs and wants of customers are important and customers are happy only when they are satisfied at the right time. Therefore, delivering good customer service is a must now to match up with the constantly rising demands of the customers.
Some key features which you need to work upon for your step towards excellent customer service are:
Channel choice
Empathy
Customer-centricity
Personalization
Fast customer service
Self-service
1. Serving through customers' convenient channels
Customers always want to connect with you on the channels through which they reached out to you. Being able to help them on their preferred support channel is one of the best ways to have excellent customer service. Our agents have the ability to handle communication on calls, emails, SMS, live chat, and all other social media platforms.
2. Empathic Nature
The customer care agents need to relate to customers and their queries and grievances. Being empathetic towards them is a crucial customer service skill to keep them at the center and help them out and not get annoyed by handling them.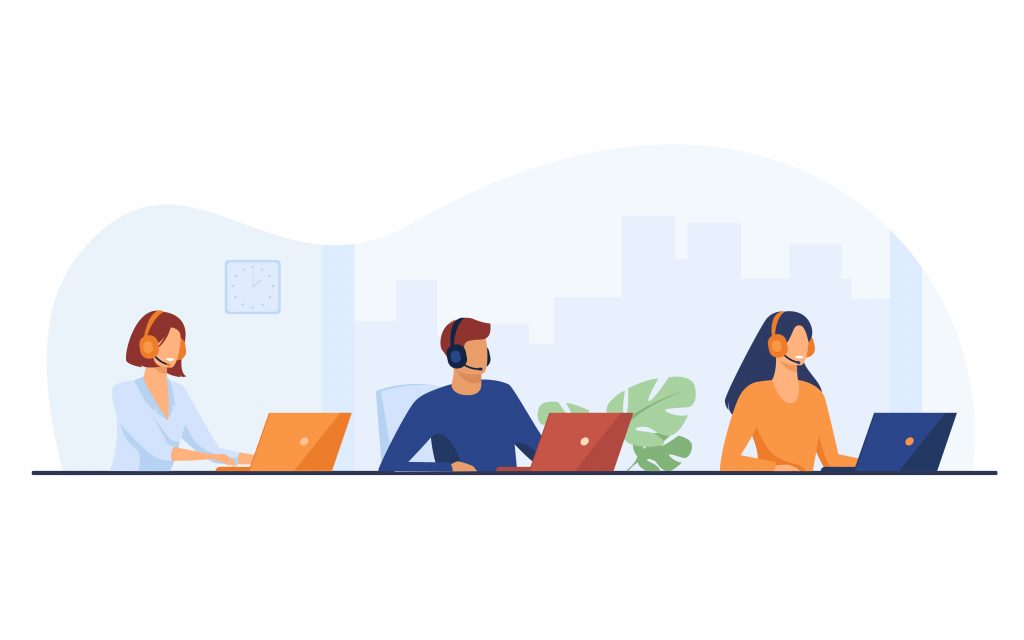 3. Practice customer centricity
Customer-centric businesses tend to grow faster as they provide a great customer experience which helps them to maintain worthy goodwill in the market. Statistics prove how companies providing satisfying customer service are 60% more profitable than companies that do not.
This business strategy is important and should be followed with timely collection of feedback and market research to expand the services.
4. Personalized experience
It is necessary to use data to personalize customers' experiences to build a long-time connection with them. The agents should always be attentive while communicating with the customers and take note of things that would help them for personalization as customers do not like to repeat the same things and are undoubtedly impressed when their details are remembered and brought to the table by the agents' side. Make sure to protect their data and not share without explicit permissions as nobody appreciates this and this affects the trustworthiness of the business also.
5. Fast customer service
Customers expect a lot and always want themselves to be responded to quickly. An automated responding system is one of the solutions but it fails to build personalized responses which helps to build a long-time connection. Outsourcing round-the-clock responding services can make you stand out to your customers. They are always happy and tend to revisit you as they would feel important and heard in such a case.
6. Self-help options can be a great help for your business
Surveys show that more than 69% of customers want to resolve their problems on their own and searching for helpful information on the company's website is their very first action. Many businesses do not understand how powerful letting people help themselves can be.
Skills to acquire for good customer service
The best skills one needs to acquire to provide good customer service are:
Empathetic nature
Identifying customer needs
Effective questioning
Anticipation of customer needs
Resolving issues quickly and efficiently
Appreciation of customers as they feel valued
Qualities of good customer service
Good customer service can leave a long time impact on your customers. Some of them are:
Friendliness: This is the primary customer need. Each customer expects to be responded to friendly and politely.
Empathy: The business must make the customer feel that their needs have been understood properly and are respected.
Fair responses: Customers should be served with reasonable explanations and answers and with all due attention.
Control: The point of view of the customer should be treated respectfully to make them feel that they influence the outcome and their views were thought upon wisely.
Options: Customers always want a wide range of alternatives and flexibility from customer service.
Relevant Information: Customers want to know about the services in a detailed yet time-sensitive manner. Giving them information that might not be useful for them would sound irrelevant to them and unpleasing.
Time: The time of the customer should always be one of the top priorities. Not wasting their time by telemarketing a service which they are not even in the need of and even not timely responding to them can create a very unflattering impression.
Now we know how good customer service can be a game-changer for your business. Providing outstanding customer service can really become your USP in the long run as it will develop your long-lasting goodwill in the market. You need not worry about the expenses to be incurred for your company's good customer service as you can cut them out to the least by outsourcing your customer services to us. We at GetCallers have a wide variety of customer services that can be customized as per your business needs and your budget. We do not want you to miss any potential customer or opportunity and make sure that each customer is satisfied with our services. Schedule an appointment with us today at https://www.getcallers.com/signup or call at tel:+18557293483 to boost your growth.