Start a Telemarketing Call Center with GetCallers
When it comes to telemarketing call centers it is a difficult choice for businesses to make, you can either manage their service for finding new clients and contact them by phone or email, which takes up a lot of your time and resources. In this case, it is obvious to hire specialists and outsource telemarketing calling services. If you agree with this, GetCallers is what you need. Our telemarketing call center services are the best that one can find.
Trusted by more than 800+ Satisfied Companies, including:
Why is GetCallers a reliable option for Telemarketing Call Center Services?
GetCallers has been in the telemarketing business for many years. Experience counts as GetCallers has built a great reputation as a company that delivers the best outsourced telemarketing call center services with a primary focus on helping clients effectively manage their B2B and B2C outsourced telephone-based projects.
Finding the correct telemarketing call center for your organization is not an easy task. GetCallers works with several vendors on different campaigns every day and that call center resources and experience allow us to be successful at hitting our B2B and B2C sales goals for our clients.
GetCallers revolutionizes with the most innovative minds to provide the best call center services globally. We facilitate outbound and inbound customer services for B2B & B2C organizations globally.
GetCallers has brought forth a wide range of call center services to improve online customer service efficiently and maximize customer satisfaction globally. Integrate your existing workflows seamlessly with us onboard to ensure a highly scalable, efficient, and agile workflow with our fast systems and processes.
We concentrate on each of the important factors in the call center working, including:
Telephone sales call center vendor selection
Sales training
Sales resource planning
Telemarketing scheduling and forecasting
Startup/Program incubations services
B2B sales quality assurance
Telemarketing technology
Telemarketing telecommunications
Telemarketing sales process
| | | |
| --- | --- | --- |
| Forward your Online leads to GetCallers.  | We Engage your Leads effectively with proven master sales scripts. | Real-time Analytics and reporting to help you close deals more efficiently. |
Expect The Best Because We Deliver What We Promise
At GetCallers, we excel at understanding customers' needs and have curated an entire software solution that helps you track your telemarketing campaigns at the most cost-effective prices. 
Our core efforts lie in managing both inbound and outbound telemarketing call center facilities.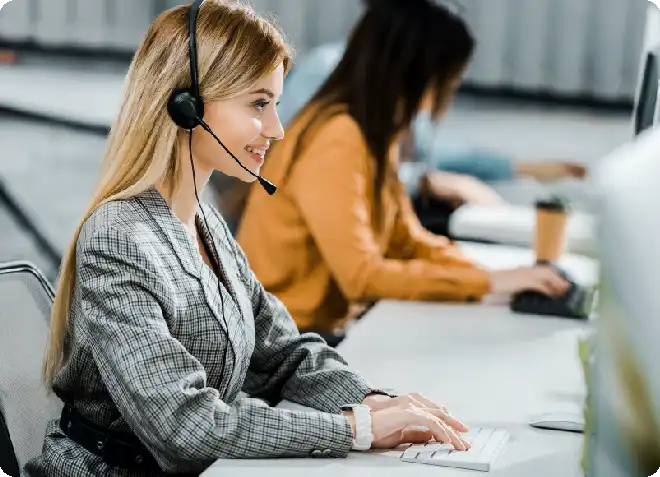 How Do GetCallers Telemarketing Call Center Services Work?
There are several goals of every telemarketing calling service. GetCallers focuses on all these goals to bring out the best results for your company.
Finding out the requirements of potential customers
Suppose your business wants to offer your services to a particular brand. But the first step is that you need to find out if this company exports its goods. It is not difficult to do since a lot of information is available already.
Collecting and updating customer data
Potential clients are contacted to understand whether it makes sense to offer services/products to them, or if they are no longer working in the relevant field.
Surveys and questionnaires
The primary goal of this is to find out whether it makes sense to launch a new product in the market. This approach shows clients that their opinion is very important to the business. Also, this is a great opportunity for a repeat call to get the results of the survey after some time.
Establishing contact between the manager of the company and the client
Once the decision is confirmed, the telemarketing operator contracts the customer with the sales manager.
After-sales service
A client should always be remembered even if the purchase is completed. Their connections with the company will increase if an employee birthday greetings or offers a holiday, proposing a good discount on the next deal.
What Happens When You Choose Our Telemarketing Call Center Services?
Great Proof of Concept and Testing Resources
GetCallers has an internal outbound business-to-business call center and we have employees dedicated just for you. Our employees work on a combination of new opportunities and established client programs that are in the "proof of concept" or "testing" phase.
Project Management Services
GetCallers provides proactive synopsis for your telemarketing campaigns. Get callers works closely with the call centers' staff daily to attain the finest results, and then communicates back to you. Our customers appreciate being updated without having to be overly involved.
Greater Value
GetCallers negotiate at wholesale rates with telemarketing vendors when a program requires added call center resources. And for what you would pay to go directly to the call center, you get the added value of the GetCallers team's experience and expertise in managing your work for you, giving you optimum performance with less time consumption.
Exceptional Knowledge and Insight
Our management team has a lot of telemarketing experience. GetCallers can offer strategies and ideas to obtain the best results from your telemarketing campaign. Having experience from both the vendor and customer services, GetCallers is in a unique position to work with every client to achieve the best campaign performance.
Greater Capacity
Because we work with multiple clients, GetCallers can fulfill all your telemarketing call center needs. We will place your organization with the employees best suited to perform for your business.
Solid Reputation
GetCallers' reputation is one of uncompromising integrity, friendly professionalism, and superior performance. Our customers know that they can trust GetCallers to speak truthfully and about every aspect of their business.
One Call Service
GetCallers is just one call away. There is no need to call multiple assistants to check their capacity, negotiate prices, and determine their performance capabilities 
Why GetCallers is the Best
Our telemarketing call center services allow clients to concentrate on their main business operations and do what they do best. Our expertise in managing call centers, market research, customer relationships, and several other business management functions facilitate businesses while keeping operational costs very low. Hiring us as your outsourced telemarketing call center partner will give you the highest value proposition and help your business to grow.

1. Forward your online leads to GetCallers.


2. We Engage Leads at the right time with proven scripts.


3. Get the results and the insights you need to close more sales.
All of our features are designed for businesses, big and small.



Call Recording for Each Call



Book Appointments in your Calendar
Real People... Real Results!
At GetCallers, you never have to worry about payroll, additional office space, attendance systems, or buying extra lunch for your new team members. We cut out all other costs and help your business grow exponentially. 
Furthermore, you don't need to stress W-2 wages, sick leaves or sabbaticals, extra office decor, or existing remote working employees. We are an extension of your current business.