Affordable Pricing to Streamline Your Business
35 hours/week
$
5
per hour for 3+ agents ea.
40 hours/week
$
5
per hour for 3+ agents ea.
30 hours/week
$
5
per hour for 3+ agents ea.
Everything you need to scale your business with our all-in-one service
All GetCallers plans include these dynamic call center service features:
| | |
| --- | --- |
| Languages Supported | English |
| Account Manager | ✔ |
| Unlimited Lead Uploads | ✔ |
| Live Transfers | ✔ |
| Recordings Storage | ✔ |
| Overtime Hours | ✔ |
| Script & Rebuttal Support | ✔ |
| Appointment Setting (Google/Outlook/Calendly) | ✔ |
| Assistance obtaining lead lists from other vendors | ✔ |
| Setup Cost | $50/one time |
| US & CA 1000 Minutes Included (click to dial system) | $9.97/mo. |
| CRM with automation & Reporting Portal with recordings | $37/mo. |
| Inbound DID Numbers (optional) | $15/quarter |
| Autodialer (optional) | $50/mo. |
| Server for 30+ Autodial Agents (optional) | $180/mo. |
| Autodialer additional minutes (optional) | $50 VoIP prepayment at $0.015/min |
| TCPA Compliance DNC & Litigator Scrub (optional) | $10 per 1000 records |
| Processing Fee | 3.95% |
| International Dialing (excl. US and CA) | Available at current per minute rates, inquire within |
| | |
| | |
| | |
For your unique business needs
Does your niche business need a better solution for calls and leads? Do you need to bring on a large number of appointment setters? Do you have a specific task you need to talk about?
That's what we're here for! We know that your business has unique needs, and unique needs call for unique, individualized call center services. We will tailor the right solution for your business. GetCallers provides flexible, 24/7 call center answering services to our clients through our fully-equipped contact centers. Get in touch with us today to discuss our call service solutions and custom pricing options.
We understand that every business has specific needs. For this reason, we offer quality add-on products and services to enhance your call center answering service experience. Whether you need ongoing support, customized scripting, or other personalized services, we've got you covered.
Keep a direct line of access to your project management team. Manage campaign snags, troubleshoot technical issues, and handle everything in between. This advanced support is automatically included.
Onboarding & Implementation
Optimize your campaigns and integrate your lead sources with the world-class support and guidance from our expert GetCallers team.
See how we measure up to the other call center solutions out there. Our customized, affordable options are designed to maximize efficiency and minimize costs.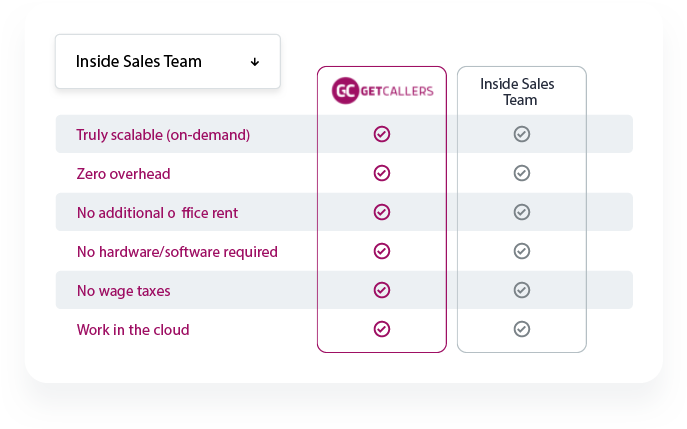 Frequently Asked Questions
At GetCallers, you never have to worry about payroll, additional office space, attendance systems, or buying extra lunch for your new team members. We cut out all other costs and help your business grow exponentially. 
Furthermore, you don't need to stress W-2 wages, sick leaves or sabbaticals, extra office decor, or existing remote working employees. We are an extension of your current business.