Never Miss An Appointment With GetCallers Appointment Scheduling Service
Providing customers the option to schedule an appointment 24/7 is an intelligent business move. Most small businesses are only active from 8 a.m. to 5 p.m. Monday through Friday. That means they are only able to book appointments 27% of the time during the week.
Trusted By More Than 800+ Satisfied Companies, Including:
With GetCallers Appointment Scheduling Service, You'll Never Miss A Potential Customer
GetCallers appointment scheduling service ensures that your schedule stays on track! By reaching out to your leads at the right time, we take care of your appointment scheduling with a confirmation. Every confirmed appointment is reviewed and followed up. All this makes it the best appointment setting company.
As your business expands with more leads pouring in, then your work also doubles. More people get to speak with you or engage with your business. You must keep track of such tasks or set aside time to meet with potential business leads. Proper scheduling and handling of appointments are required, which are managed by our account executives. Every meeting is scheduled through detailed information given to the customers, and real-time appointment confirmation is presented.
Appointment Scheduling consumes much time, leaving you with less time to focus on other essential tasks. GetCallers is the best Virtual Assistant Company that formulates an appointment scheduling system that manages appointments. It saves time as well as allows you to focus on other tasks. Your calendar is filled with appointments at your convenience.
Engage with GetCallers and generate leads more efficiently with our team of experts.
GetCallers Is A Leading Name In The US Market For Appointment Scheduling, Here's Why!
It is estimated that the appointment scheduling market will rise by 2024, worth $360 million. Businesses need better resources-equipped organizations to work on behalf of them. At GetCallers, we retain your appointments by scheduling them in your calendar and sending a reminder beforehand. We gather real-time feedback using trained assistants to deliver valuable insights. 
We make appointment scheduling look easy and hustle-free. While you take care of your business's other necessities, we take care of appointment scheduling and aligning the leads with you. Our team of experts will ensure better results through our real-time appointment scheduling service that reduces "ghosting" by prospects.
GetCallers brings in new strategies for Appointment scheduling to maximize customer service and customer satisfaction across the globe. Integrate your existing workflows seamlessly with us onboard to ensure a highly scalable, reliable workflow with our steadfast systems and processes.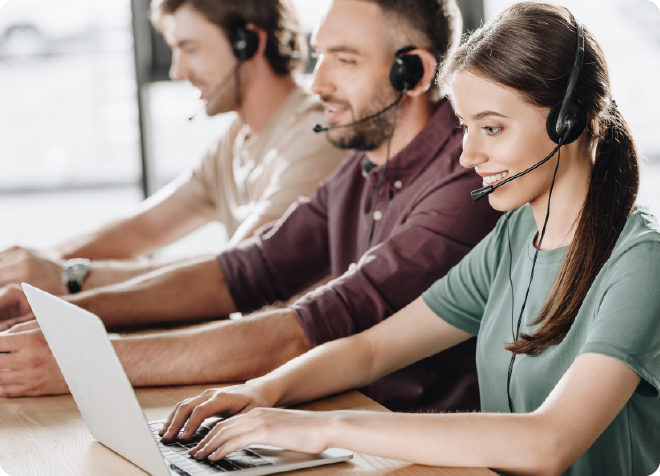 1. Forward your online leads to GetCallers.


2. We Engage Leads at the right time with proven scripts.


3. Get the results and the insights you need to close more sales.
Never Miss An Appointment With GetCallers Timely Appointment Scheduling Services.
A missed appointment can impact your per lead cost if not followed up properly. Most often, a lack of reminders results in appointments being missed.
By collaborating with GetCallers, your account executives will have a scheduled calendar full of meetings. GetCallers will send an appointment reminder to you and your leads for not missing out on scheduled appointments.
We have designed GetCallers Appointment Scheduling Service to keep you updated on your scheduled appointments. We assist our clients 24/7 throughout the year globally. To convert your "No Show Appointments" to successful deal closures, talk to us today.
Businesses That Benefit From A Call Center For Appointment Scheduling
Suppose you work in a sector that requires appointments for the goods or services you provide. Our call center service provider can help you be more productive by setting up appointments for you 24/7.
Our call center in the United States will set up appointments for any sector. Other practitioners benefit from our assistance, such as veterinarians, attorneys, real estate agents, insurance agents, and accountants.
GetCallers Appointment Scheduling Will Help You Make The Most Of Your Time.
Using GetCallers 24/7 appointment scheduling service gives you an advantage over your competitors. Our team is ready to serve as your virtual receptionist and schedule those crucial appointments you would otherwise be missing if the request came in after business hours. However, our team can assist you with more than just appointments; we can also handle overflow calls, dispatching emergencies, and taking messages!
.
How To Hire Agents For Appointment Scheduling Services Through GetCallers?
Here are the steps that you need to follow to engage us:
The first step is to sign up with GetCallers.

If you are new, a representative will be assigned to you.

Then, you will have a list of recordings to choose from

Last but not least, hire! Now you have a team of Appointment Scheduling agents working with you.
Why GetCallers Is The Best In The Market
Be it a Big or a Small Business; we have solutions designed for all.
Professionally designed scripts 

TCPA Compliant

Real-time call recording

Real-time Data Analytics

Assured Data Privacy & Quality Control

Seamless Appointment Scheduling to your calendar

Boundless Integrations

Real-time Appointment Scheduling & Confirmation
All of our features are designed for businesses, big and small.



Call Recording for Each Call



Book Appointments in your Calendar
Real People... Real Results!
At GetCallers, you never have to worry about payroll, additional office space, attendance systems, or buying extra lunch for your new team members. We cut out all other costs and help your business grow exponentially. 
Furthermore, you don't need to stress W-2 wages, sick leaves or sabbaticals, extra office decor, or existing remote working employees. We are an extension of your current business.