Your Healthcare Leads need the proper Customer Support.
If looking for help to manage the daily tasks of running your business? And you want help with performing the tasks that crop up in your insurance business so that you can concentrate more on growing your sales pipeline, keeping clients longer, and generating more leads? If yes, GetCallers insurance virtual assistant is the solution for you.
Trusted By More Than 800+ Satisfied Companies, Including: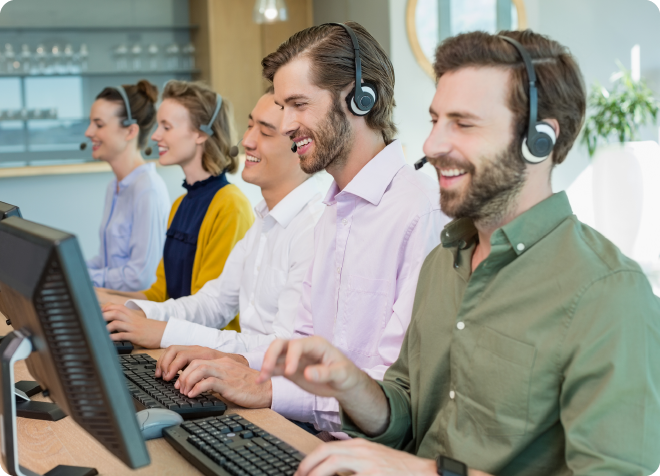 We Make Cold-Calling A Seamless Process For You
GetCallers is one of the best insurance virtual assistant service providers and can provide you with just the insurance agent virtual assistant you require to take your insurance business growth to the next level. Our insurance virtual assistant agents are highly motivated and trained to make a real impact on helping you boost your efficiency and increase productivity.
GetCallers provides a comprehensive range of insurance virtual assistant services. Our insurance agent VA can handle a full range of menial and tedious tasks to help you concentrate more on your core areas of business.
Our agents are always there for your clients.
Professional Agents

Proficient in English 

Appointments

 

Get qualified appointments into your Google/ Outlook Calendar

Instant Calling

 

Automated Instant Calling & Recording

post lead generation

Tackling a few obstacles

 

Our team is expertise in insurance prospects and utilizing rebuttals.
What Happens When You Hire Our Insurance Virtual Assistant Services?
Outsourcing insurance virtual assistant services to GetCallers is the right decision to save on costs and increase efficiency. Our insurance virtual assistant services are comprehensive and each and every virtual assistant is chosen precisely so that only the best are hired. Outsource insurance virtual assistant services to GetCallers now to unlock tangible benefits.
There are several reasons for you to choose an insurance virtual assistant from GetCallers. These include –
Quality Services
We assure you that you receive high-quality services from our insurance virtual assistants. Our quality analysts also perform regular checks to ensure that our Virtual Assistants are performing at a consistently high-quality level.
Timelines
One of the best traits of our insurance virtual assistants is that they provide all their services within quick turnaround times.
Specialized Professionals Dedicated to your Tasks
Our insurance virtual assistants are specially trained to take on all your menial and administrative tasks. Our insurance virtual assistants will always deliver from the first day of their service.

Pay Only for the Services Provided
Our pay-as-you-go policy is extremely convenient and lets you avail of only the insurance agent virtual assistant services you get. We do not like to charge you for any add-on services.
No Administrative Concerns
As one of the best insurance virtual assistant services, we allow you to reduce administrative costs that you otherwise would have had to invest in had you hired an in-office employee. With our insurance virtual assistant services, you need not invest in expensive software and infrastructure.
Zero Payroll Hassles
When you hire an insurance virtual assistant from GetCallers, you can save money by not having to pay for things like payroll expenses and costs related to mandatory benefits, etc.
Flexibility to Scale at Your Own Pace
As the finest provider of virtual assistance for insurance agents/brokers, we allow you to easily scale up or scale down the number of virtual assistants working on your project to help you better deal with changing business requirements.
High Data Confidentiality & Security
Our Virtual Assistants are fully compliant with all recommended legal compliances as well as data security legalities to ensure that your data is always securely stored.
Why GetCallers Is The Best In The Market
GetCallers Virtual Assistants can help you maintain operations, increase efficiency and productivity, and reduce costs. Our virtual assistants all come highly trained and dedicated to providing quality value additions that allow you to take your business to the next level. With our insurance virtual assistant by your side, not only do you get help managing your daily and regular operations, but you also need not worry about having to pay for expensive infrastructure and shell out on things like mandatory benefits that you would have to if you hired an in-office employee to work with full-time.
Not knowing what an in-office employee can cost can be an expensive error. Also, many virtual assistant providers quote upfront expenses that may not include additional charges that are only revealed during the time of contracting. At GetCallers, we make the process of hiring a Virtual Assistant extremely straightforward and simple and do not have any hidden fees or other expenses. Our prices start from only $5 and are customized to fit a wide variety of budgets and requirements.
Let our Agents do the Cold Calling that Keeps your Leads Warm.

Our team speaks perfect English &
Spanish.

Get qualified meetings straight to your Google/Outlook calendar.
Calls are made minutes after a lead
Calls are made minutes after a lead
your list.

Our staff is experienced in calling on
insurance prospects and knows how
to utilize your rebuttals..
Real People... Real Results!
GetCallers Covers all of Your Financial Services Needs
Offload Your Routine HR Call Tasks to GetCallers…
We Turn Cold Calls Into Opportunities…
We Generate Appointments, You Close More Deals…
Telemarketing Campaigns That Drive Results…
We generate more leads for your business…
Sales Outsourcing Scales As Fast As You.
The Fastest Way To Qualify Your Marketing Leads …
At GetCallers, you never have to worry about payroll, additional office space, attendance systems, or buying extra lunch for your new team members. We cut out all other costs and help your business grow exponentially. 
Furthermore, you don't need to stress W-2 wages, sick leaves or sabbaticals, extra office decor, or existing remote working employees. We are an extension of your current business.