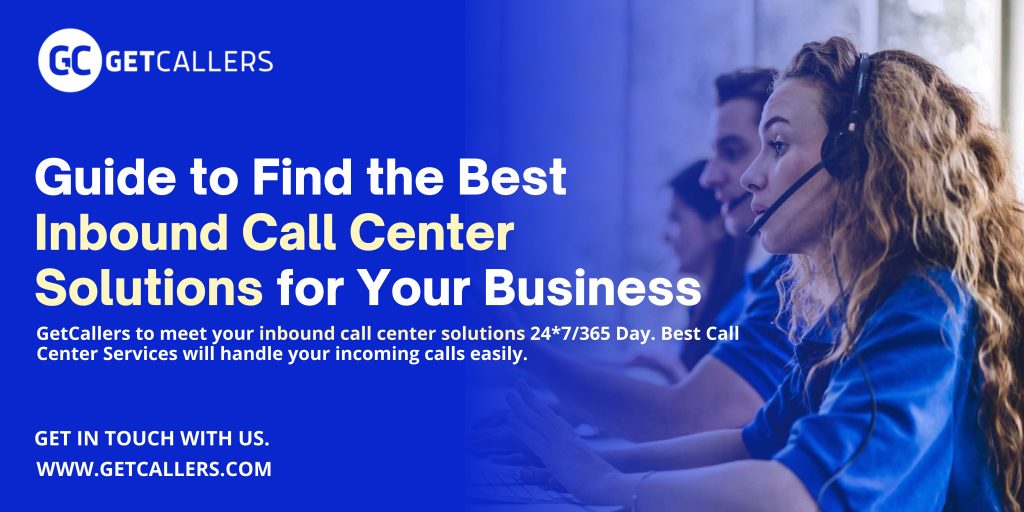 Trust plays a key role in retaining a customer for the business. There is a popular saying in the business world that if a customer is buying from you, it does not always mean it also trusts your brand. Building trust is a gradual process. To build trust, you need to consistently deliver exceptionally good customer service to your customers. That's where the role of an call center comes into play.
In this article, we will read about:
What is an inbound call center?

What services a call service provider?

Reasons why your business needs a call center?

What are the benefits of a call center?

Find the best call center solution for your business?  
What is an inbound call center?
An inbound call center handles incoming calls from existing and potential customers. It is the business's primary point of contact for handling incoming calls. The primary purpose of center services is to provide speedy and right resolution to customer queries. It plays a vital role in customer retention. That's why top firms invest heavily in call center solutions.
It is often said in the business world that a 5% increase in customer retention can increase the business profit margin by 25-95%. A business call center helps a business achieve this by offering a wide range of benefits.
What services does a call center provide?          
The primary purpose of a center's services is to provide customer service. Here are some of the important things an  call center can help your customer with:
Product or services related issues
The majority of customers call a business customer support team to resolve the issues they are facing with the company's product or services. Call center services help address the customers' concerns and provide the right and quick solution to the customer's complaints. Often the performance of a customer services agent is evaluated based on the factors like first call resolution, average handle time, and time in queue.          
Payment and order processing
Many times customers need help with placing an order. It can be related to anything such as learning more about the product, placing an order, or making payments. An inbound call center can help customers with payment and order processing and make the right decision by connecting them with the product specialist. Many service-based industries effectively use an call center for scheduling appointments.
Account related changes
People call the virtual call center often for making account-related changes such as changing passwords, upgrading the plan, managing billing, or learning about new deals and offers. A business needs a knowledgeable team of call center agents that can help customers with account-related issues.   
Why do businesses need a call center?
There are few signs that tell a business needs a team of call center service agents. Have a look at them.
You are not able to handle the incoming calls  
If your existing team of customer service agents is not able to handle the volume of incoming calls or you do not have a trained team of inbound call agents, it is time for you to hire a call center. It will help you manage your incoming calls effectively.   
You are losing a customer due to poor customer service
If your customers are leaving due to poor customer service or you are not able to provide them with a speedy resolution, it is time you should hire a call center.  Call Center can provide you with exceptional customer support services.
You are not able to cater to the specific needs of key clients  
If you are not able to pay attention or provide care to high-priority clients, you should hire call center solutions to keep those clients. A call center can help you retain those clients with high-quality customer care services.     
What are the benefits of call centers?
Having a dedicated customer service team can help your business in many ways. Here are the key benefits of an call center:  
Improve customer retention
Hiring an inbound call center helps you increase your customer retention rate by providing high-quality customer service. A pleasant customer experience ensures that customers stay with your brand for a long time. It also helps you build trust by consistently providing quality customer service to your customer. It sends a message to the customer and clients that you value them.  
Stay competitive
One of the most unpleasant experiences for customers is when they feel unheard and their concern is being kicked around for too long. This will eventually lead a business to lose its customer. Consistently losing customers due to poor customer service makes it difficult for a business to stay competitive in the market. Quality inbound customer support services help you remain competitive in business by retaining existing customers, bringing business revenue for a long time, and reducing costs on gaining new customers.  
Advocate your brand    
Happy customers are the best advocate for your brand. Quality customer care service can make a difference in getting a recommendation or losing a customer. The objection is the opportunity for a brand to excel. If a customer is facing an issue and you provide a solution beyond the customer's expectation, you can earn a customer and good advocacy for your brand. At the same time, if you do not address customer issues properly, you can lose a customer and have bad advocacy for your brand.
Find the Best Call Center Solution For Your Business.
GetCallers is a pioneer among call center services and freelancer companies, which provides business outsourcing across a range of services for global organizations. GetCallers highly trained team of call center service agents can provide your customer with high-quality customer services that can help you achieve 10x growth for your business. Check out plans for small and medium-sized businesses starting for as low as $5 per agent.