Do you want to attract more customers and increase sales? virtual sales assistant can be a time-consuming and challenging task for business owners.
But fear not! A virtual sales assistant can help. A virtual sales assistant is someone who works remotely from their own home office, selling products and services online to customers from all over the world.
These remote workers perform a wide variety of tasks, such as writing and sending emails, making phone calls, managing social media accounts, searching for new clients, and entering customer information into the CRM.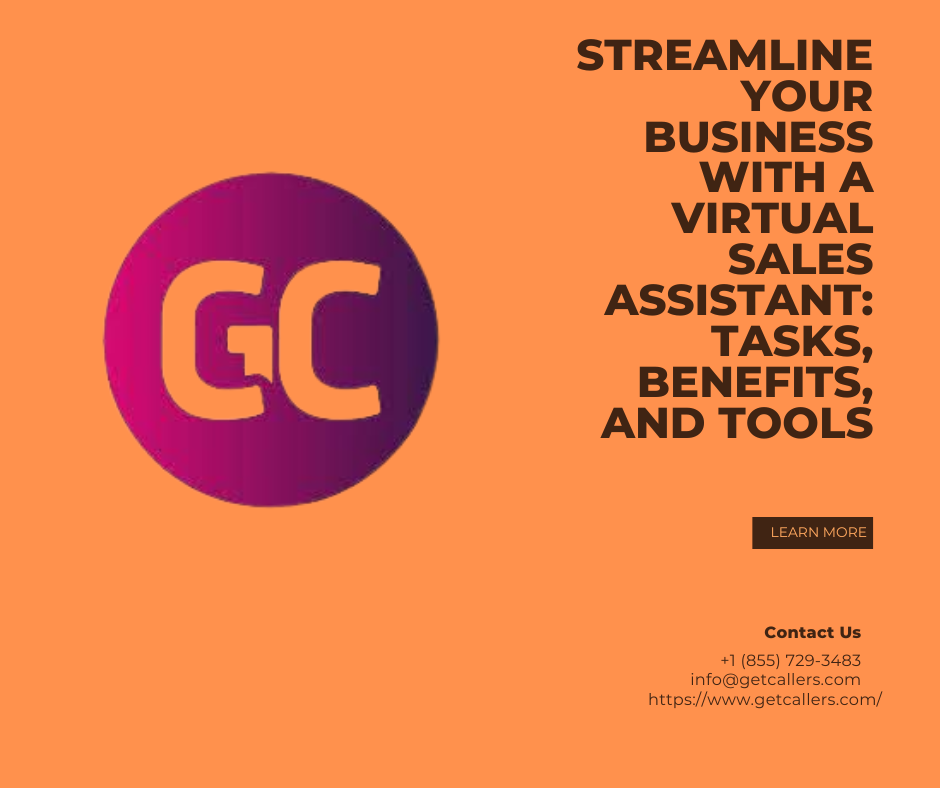 If you want to learn more about the tasks that you can outsource to sales assistants, check out our list of 100 tasks. By working with a virtual sales assistant, you can effectively organize your sales funnel and streamline its management.
Due to the pandemic, many employees work from home, making virtual assistants an excellent addition to your team. They are flexible, cost-effective, and accustomed to remote work.
A virtual sales assistant can help establish communication with potential customers, keeping new leads flowing and enabling you to target a wider audience.
This article will encompass all the essential information about sales assistants, comprising their responsibilities, the reasons to employ them, and tools that can enhance the efficiency and productivity of your sales team. 
Tasks a Virtual Sales Assistant Can Perform
Every company has the option to choose a virtual sales assistant that is specifically suited for their tasks and virtual sales needs. While some companies may only need help with sending cold emails or supporting clients, others may utilize a sales assistant for every stage of the sales cycle.
To determine which tasks you would like your sales assistant to perform and how much time you will need them for, it is important to first take a closer look at what a virtual sales assistant does.
One task a sales assistant can help with is turning cold leads into hot leads. By establishing contact with cold leads, they can eventually turn them into warm leads and ultimately into your consumers, increasing sales for your company.
Sales assistants can also assist with maintaining your CRM software. By outsourcing mundane sales tasks to a virtual assistant, your CRM will always be updated with new leads and follow-up information.
In addition, sales assistants can provide highly targeted, curated lead lists for your company to ensure that your sales team is making progress and that you have a thriving sales pipeline of qualified prospects.
Another way a sales assistant can assist your company is by helping with scheduling. They can assist with organizing meetings between prospects and your sales reps, answer customer phone calls and emails, and input customer information into your company's CRM to keep it updated.
Sales assistants can also help with the preparation and assistance with sales reports. They can help produce clear, concise reports utilizing the information they collect into CRM on a regular basis to help you stay on top of your sales team's performance.
Finally, a virtual sales assistant can assist with social selling by establishing contact with users on well-known social media platforms such as Facebook, LinkedIn, Twitter, and others, which can be time-consuming and difficult to manage in a busy schedule.
Advantages of Hiring a Sales Assistant
If you are considering whether to hire an employee or outsource repetitive tasks to a virtual sales assistant, here are some advantages to keep in mind:
Saving Money: A sales assistant is more affordable than an in-office employee since you pay per hour and don't have to provide benefits such as taxes and bonuses. This way, you can save a significant amount of money in the long term.
Flexible Schedule: sales assistants work on their own schedules, which allows them to complete tasks at a time that suits them best. This can lead to more efficient work, since they are not distracted by office chatter or other distractions.
Remote Work Experience: Remote workers are already used to working from home, which means that they don't need additional motivation or support to get started. This makes it easier for you to expand your team without worrying about interviews or setting up new workspaces.
Competency: sales assistants are experienced in sales and have a deep understanding of business processes. This means that they can adapt quickly to your company's needs and complete tasks at a high level without constant monitoring.
To ensure that you find the right virtual assistant, you can contact a reliable outsourcing service provider who employs specialists in different fields. This will give you additional guarantees about the experience and skills of your new employee.
Tools for Improving Virtual Sales Assistant's Efficiency
If you're looking to improve the efficiency of your sales assistant, you might want to consider using additional tools. Here are some options to consider:
Time Doctor: This program helps track employee productivity by accurately analyzing the time spent on job tasks. You can set up work schedules and analyze performance to improve productivity. Time Doctor also minimizes distractions by tracking web and app usage and generating various reports. This tool is suitable for both company representatives and virtual sales assistants.
Snov.io: If you need to automate cold newsletters or conduct an email address search, Snov.io can help you fill your database with new addresses or remove inactive emails. The tool provides an email search function for new contacts and allows for the verification of addresses. Triggered mailings help improve the efficiency of your bulk mails. With Snov.io, sales assistants can easily search for addresses, sort contacts by various parameters, and select domains used by potential customers.
Slack: This tool can be used to improve communication and send instant notifications to your sales assistant. Structuring communication across multiple channels allows you to transfer messages from the inbox, instant messengers, or social networks to the program. You can set up communication with permanent employees of your company or those with whom you work from time to time.
MeetEdgar: If you want to promote your services on social media, MeetEdgar can help you manage activities on various platforms. The tool automates the publication of new content, plans the time of posting, and creates articles. You can manage your account's materials on social networks such as Facebook, Twitter, and LinkedIn, as well as Instagram. Updates will be posted on all platforms simultaneously, without the need for personal control over the posting.
ContentStudio: This tool allows businesses to manage their social media content and automate their ad campaign across multiple channels, including social networks, information leaflets, and blogs. ContentStudio offers search and analysis of content suitable for your field of activity, time planning calendar for posting, optimization of posts, and KPI statistics. With this tool, sales assistants can improve the efficiency of your marketing campaign and provide real-time performance reports.
Picmonkey: For convenient photo editing, creating sales presentations, and collages, you can use Picmonkey software. The app offers placing text on photos, templates for social networks, overlay and clipart, and a large collection of fonts, photo frames, and various templates that simplify image processing. Picmonkey is available for portable gadgets on iOS and Android and is integrated with Dropbox and OneDrive cloud storage services. With this tool, sales assistants can easily create high-quality content such as logos, business cards, social media posts, postcards, or covers.
If you're looking for support in growing your business and handling business-related duties, a sales assistant may be able to help. By working with a virtual sales assistant and utilizing specific software tools, you can design effective sales campaigns and draw in new clients or customers. With their assistance, you can save time and energy that can be used to focus on other important areas of your business.