Ease Your HR Management With GetCallers
Cut down on additional costs and boost your candidate screening efficiency with GetCallers. We cut down on time-consuming HR management tasks like Recruitment, Screening & Onboarding to accelerate the processes. Filtering and Recruiting candidates is a lengthy & time-consuming process with telephonic interviews, Screening tests, Skills evaluation, personal interviews, and more.
A simple, straightforward, and well-structured screening process benefits the candidates and conveys recruiters' effective and responsive nature.
The first observation made by a recruiter is through reviewing the required skills for the job. We perform a quick skill test based on your given priorities to assess candidates. A resume has to be well designed in simple language, precise, well oriented. GetCallers Application tracking system helps in Candidate Screening and reviewing their application status.
Trusted by more than 800+ Satisfied Companies, including:
Save Time And Money When You Hire A Virtual Assistant
Enable our professionals to work on your behalf to relieve you of the most time-consuming aspects of the hiring process. We find and screen job seekers on your behalf, so you have a steady stream of qualified applicants filling open positions and lowering your cost per hire.
Count On Our Team's Expertise To Help You Meet Your Hiring Needs By Using The Most Up-To-Date Tools.
Our recruiters at GetCallers use their experience and expertise to analyze candidate behavior and patterns with the most up-to-date labor market data to develop personalized sourcing strategies for your open positions and do pre-hire candidate screening.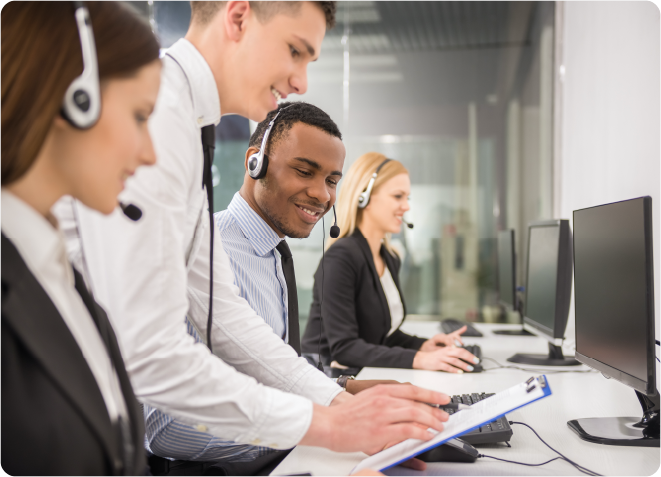 How Candidate Screening At GetCallers Works
Custom Solutions To Fit Your Needs –

Make the hires you need with no cap on the number of applicants you get. Our agile model enables you to tailor the best solution to achieve your recruiting objectives while remaining within budget.

Use Data-Driven Campaigns To Find The Best Candidates –

We collaborate to create a personalized recruiting plan based on the most recent labor market data, applicant activity, and previous performance data. We use the most up-to-date tools and data available in the recruitment market, as well as industry-leading technology, to find you the best candidates.

Retain Ownership Of The Talent Pool To Fill Your Pipeline –

We start filling your positions right away by delivering a steady quality talent pipeline based on your requirements. You will continue to receive screened candidates as they become available during the GetCallers engagement. You have control over this talent pool, which you can use to start getting in candidates and filling your pipeline for the future. Furthermore, the candidates we propose to you are exclusively yours; we do not share them with our other clients.

1. Forward your online leads to GetCallers.


2. We Engage Leads at the right time with proven scripts.


3. Get the results and the insights you need to close more sales.
Sourcing And Recruiting Candidates Is Hassle-Free With GetCallers
We are a recognized name for Candidate screening in the US. Our expert teams work on getting you the desired candidates that fit in for the job role. Candidates are screened based on their skills, work experience, and references.
Despite the technological advancements, Recruitment is still an old-school technique. One has to screen candidates properly pre-hiring. GetCallers have devised a unique strategy for Candidate screening by skimming all the resumes and cover letters. Our team works on giving you a suitable candidate who has all the relevant skills.
GetCallers tends to work 24/7 throughout the year to provide Candidate Screening services to our clients globally. Our team comprises professional callers who are experienced in recruitment and HR Administration. All the screening tests are carried out accordingly. Candidates are shortlisted primarily based on their resumes, where the recruiter tries to match the exact requirements. 
Forward your Online leads

to GetCallers. 

We Engage your Leads efficiently

with proven master sales scripts.

Real-time Analytics and reporting

to help you close deals more effectively.
Finding The Right Talent Is Now Easier With GetCallers.
Candidate Screening is a crucial step in any recruitment process. GetCallers offers the best Candidate Screening Services in the United States. We call candidates on your behalf for the Screening test, with preferred access to the Application Tracking System so that you hire the best remote assistant. We gather relevant details from the candidates, such as academic credentials, abilities, certificates, insight of the respective company, or expertise in related work and relevant facts. We fully ensure the calls are performed with perfection and according to industry standards.
Candidate Screening is recruiting the best candidate who has equivalent knowledge about the desired field. Interviews, qualifications, skills assessments, psychometric methods, group discussions, and personal interviews are all part of the applicant selection process.
Why GetCallers Is The Best In The Market
Be it a Big or a Small Business; we have solutions designed for all.
Professionally designed scripts 

TCPA Compliant

Real-time call recording

Real-time Data Analytics

Assured Data Privacy & Quality Control

Professionally designed process workflows for Candidate Screening
All of our features are designed for businesses, big and small.



Call Recording for Each Call



Book Appointments in your Calendar
Real People... Real Results!
At GetCallers, you never have to worry about payroll, additional office space, attendance systems, or buying extra lunch for your new team members. We cut out all other costs and help your business grow exponentially. 
Furthermore, you don't need to stress W-2 wages, sick leaves or sabbaticals, extra office decor, or existing remote working employees. We are an extension of your current business.